Teton Mobility Corridor Improvements | Idaho Projects
Welcome
Thank you for participating in our online engagement.
This online meeting presents the Teton Mobility Corridor Improvements in Idaho.
Idaho Projects Overview
View the map below to see the six proposed projects along Highway 33 in Idaho.
---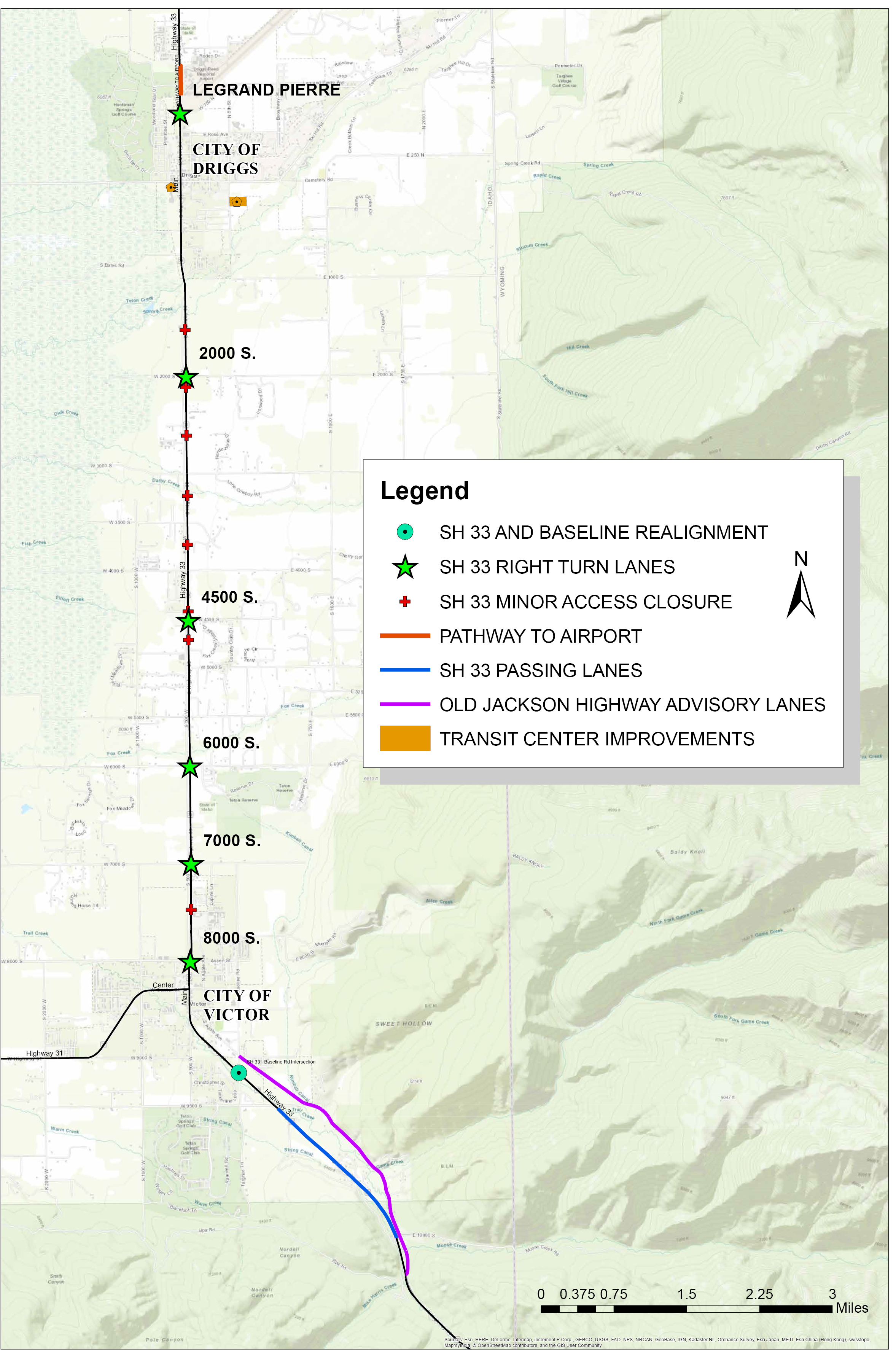 Click on the image to enlarge.
Construction Timeline
Construction of the six Idaho projects will occur between summer 2023 and late fall 2025.
---
Click on the image to enlarge.
Driggs Downtown Transit Center (Phase 2)
The existing parking lot at the Downtown Driggs Transit Center is 100 percent full in the winter months. Even in summer (when walking and biking is a more viable option), 43 percent of START riders boarding in Driggs drive to catch the bus. This indicates that parking capacity is a limiting factor for transit ridership. Improvements include the construction of 52 additional parking spaces and a second bathroom facility for transit riders.
---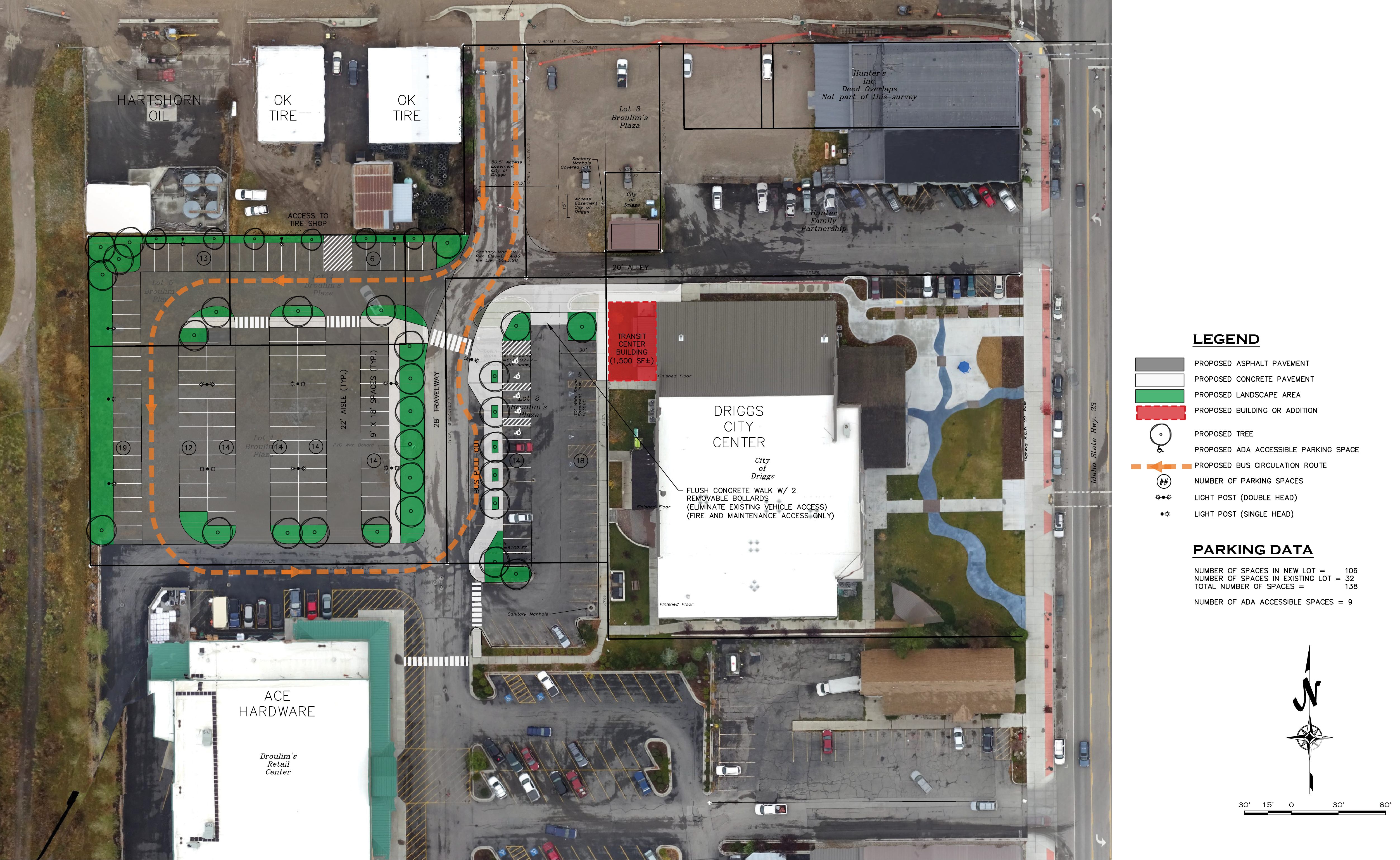 Click on the image to enlarge.
Driggs 5th Street Park-and-Ride
During the winter and summer season, START operates the Grand Targhee shuttle service, with funding from the FTA 5311 program and the Grand Targhee Resort. Service is provided seven days a week from November - April and from June - September. Expanding and formalizing the parking capacity at the 5th Street site is important to support future growth in ridership on this service. This project will add 47 additional spaces serving an estimated 78 people per day.
---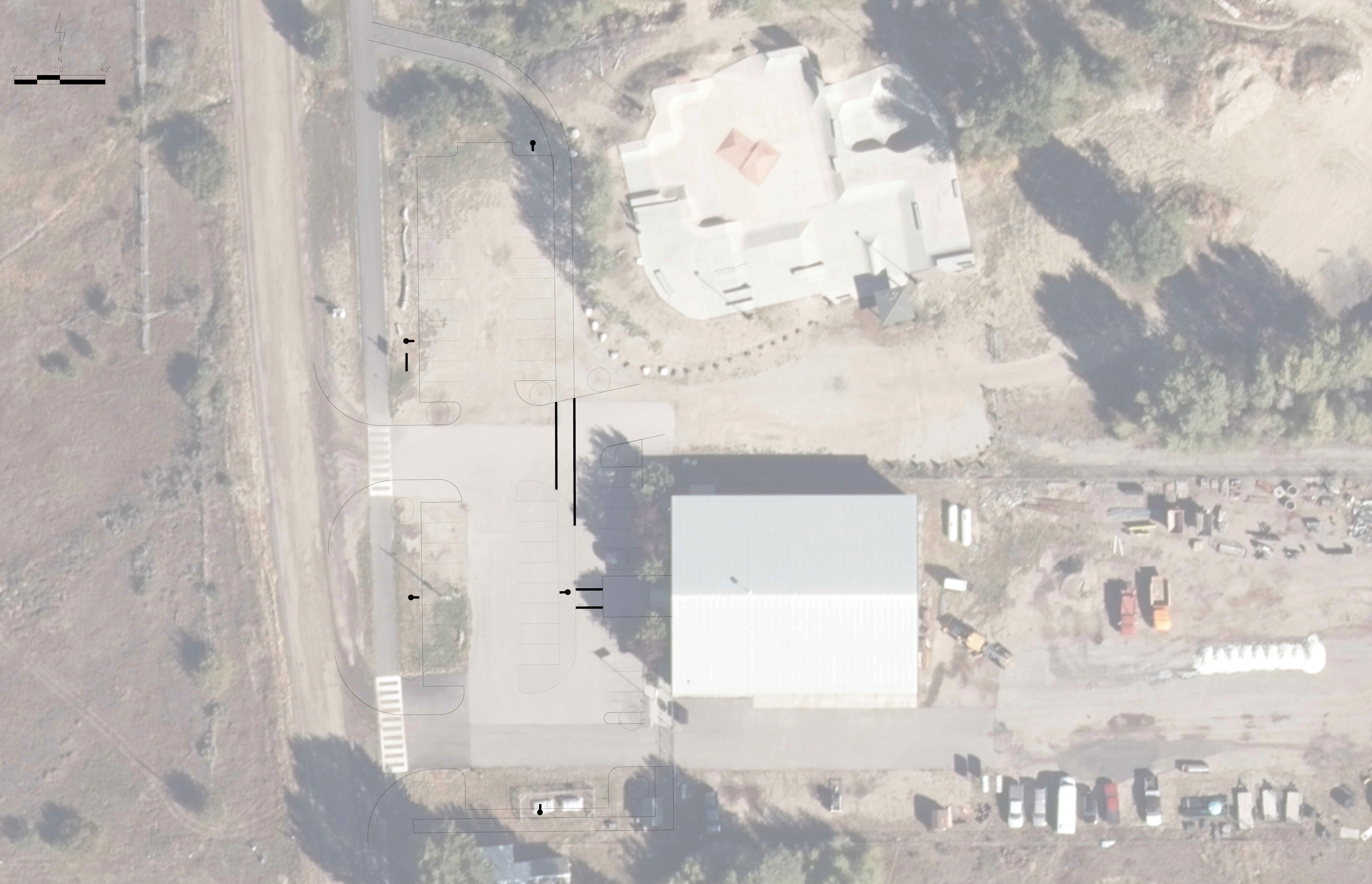 Click on the image to enlarge.
Greater Yellowstone Trail: ID-33 Pathway to Airport
This project will extend a pathway alongside ID-33 approximately 0.6 miles from its current terminus to the Driggs Airport. This pathway would be part of the Greater Yellowstone Trail vision and connect to over 14 miles of pathway that currently exists along ID-33. Due to the lack of pedestrian crossing opportunities and narrow shoulders along the highway, this pathway will provide an important and safe connection for bicyclists and pedestrians between the busy general aviation airport and the rest of the community.
---
Click on the image to enlarge.
Greater Yellowstone Trail: Old Jackson Hwy Advisory Shoulders
This project will stripe advisory shoulders on Old Jackson Hwy to link existing and planned sections of the Greater Yellowstone Trail. Advisory shoulders create dedicated space for pedestrians and bicyclists on low-volume rural roads that are unable to provide separated facilities such as sidewalks or bike lanes. Wayfinding signage will also be installed in coordination with the advisory shoulders to promote and brand the segment as part of the regional Greater Yellowstone Trail.
---
Advisory shoulders create usable shoulders for bicyclists on a roadway that is otherwise too narrow to accommodate one. The shoulder is delineated by pavement marking and optional pavement color. Motorists may only enter the shoulder when no bicyclists are present and must overtake these users with caution due to potential oncoming traffic.
Click on the image to enlarge.
ID-33 Baseline Intersection Turn Lane and Pathway Underpass
The ID-33/Baseline Road intersection includes the addition of left and right-hand turn lanes to improve safety and capacity. The inclusion of left and right turn lanes can increase approach capacity by up to 25 percent. These improvements will require the realignment of the ID-33/Baseline Rd intersection and the extension of a pedestrian undercrossing that currently connects pathways below ID-33.
---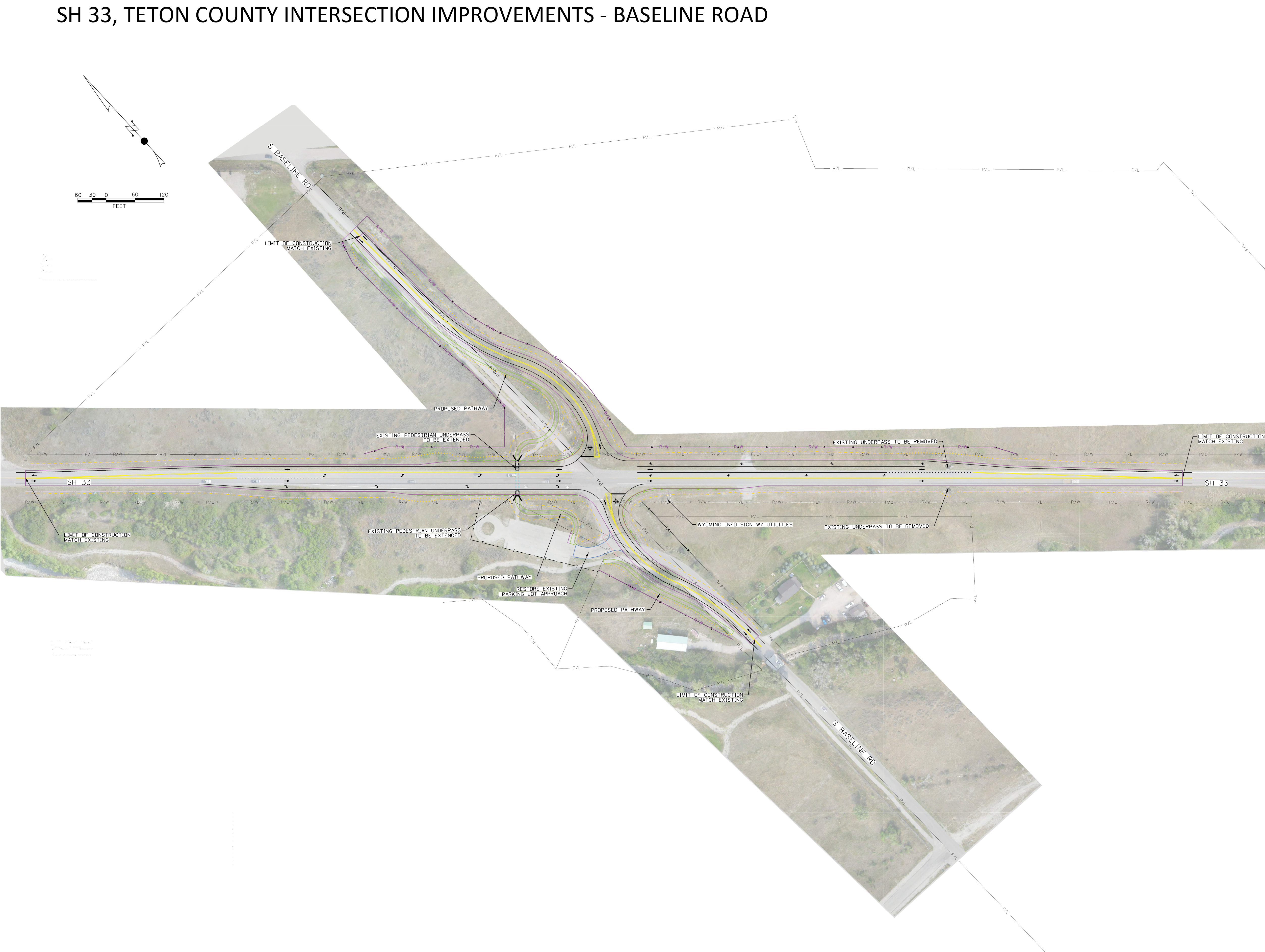 Click on the image to enlarge.
ID-33 Turn and Passing Lanes
The ID-33 Turn and Passing Lane projects seek to improve safety and operations through the construction of turning lanes at seven intersections along ID-33. A passing lane will be provided for approximately 1.6-miles from milepost 151.35 to 152.9. Passing lane improvements provide added capacity and safety measures, especially due to the variety and mix of commuter, recreation and trucking traffic along ID-33. These improvements will benefit freight traffic, transit, and commuters traveling between Teton Valley, ID and Jackson Hole, WY
---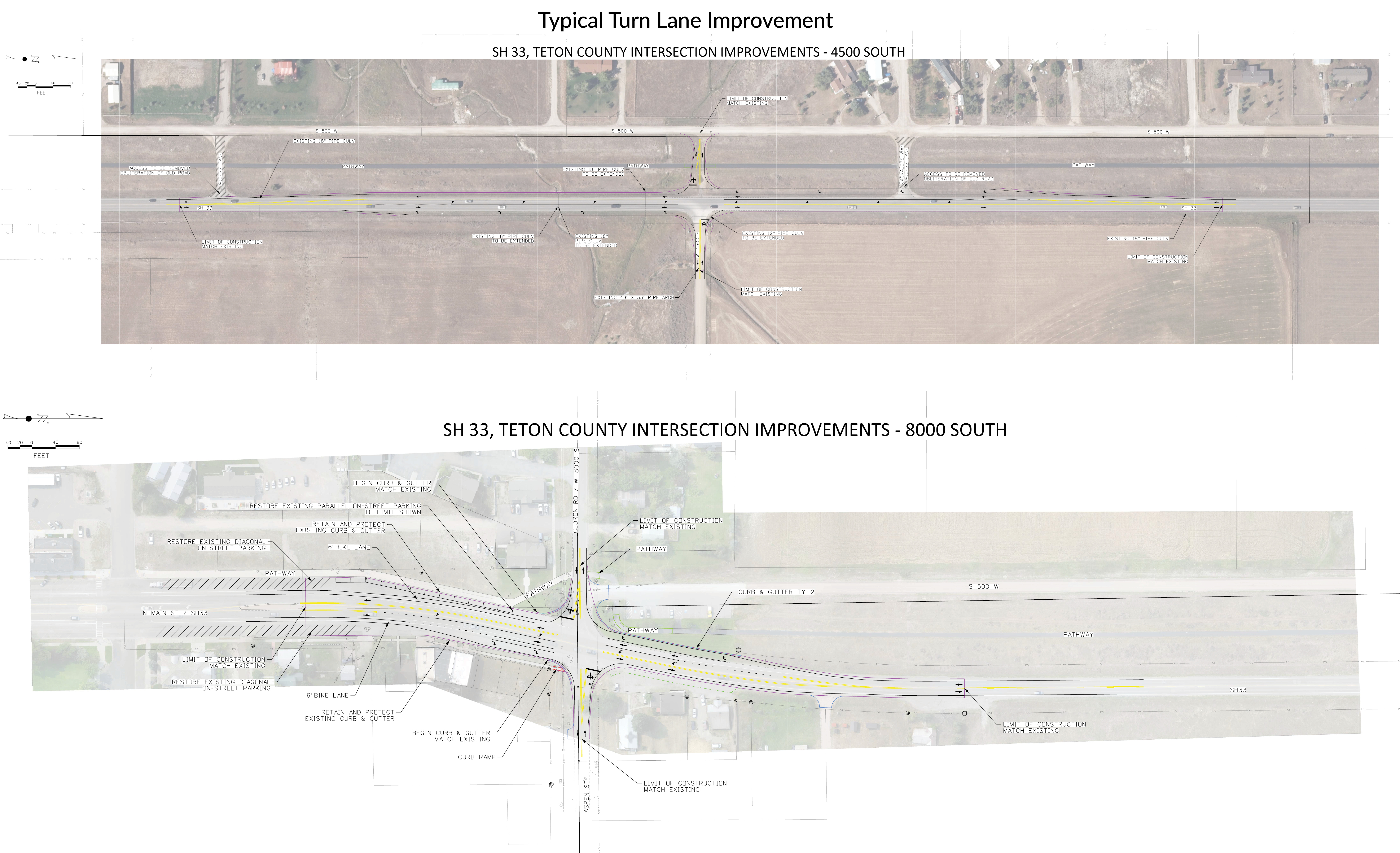 Click on the image to enlarge.

Click on the image to enlarge.
Stay Connected
Thank you for your interest in the Teton Mobility Corridor Improvements BUILD Grant Project
It's important for the community to understand what to expect during and after construction.
That's why we want to stay in touch.
Share
Please pass along the link to this virtual public meeting to family, friends, neighbors and coworkers that use this stretch of Highway 11 so they know what to expect, too.
Comment
To submit a general comment or question to the project team, click on the "Comment" button at the top right corner of your screen.
Sign Up
For more information and to sign up to receive project updates, please visit: tetonbuildgrant.com